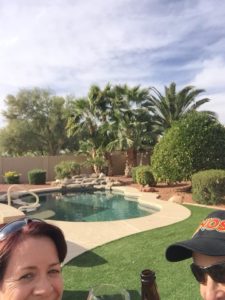 Canadians have varied needs and wants when looking for a vacation, investment or retirement home in the Greater Phoenix real estate area.
I always start with conversation when a new client is referred to me or finds me through one of our many websites……Do you know anyone that has a home here that you'd like to be close to? What kind of amenities, activities, entertainment and/or shopping venues are important for you to be close to? Where are you from and what do you like about it?"
Being from Canada, I have insight into the make-up and feel to numerous cities and towns throughout the provinces. To know where you are coming from can assist me to be intuitive about where you might like to be. Learning about your likes and dislikes by asking pertinent questions and listening carefully enables me to zero in on great possibilities. Knowing the price range that you're shopping in helps me to put it all together for the most suitable potential locations for you.
And then there's the condo vs house dilemma for many to decide upon …..do you want more of a lock-n-leave situation that a condo lifestyle can be like or would you prefer more privacy, having a yard and be prepared to set-up your own care network ( with my assistance of course!) that a house can offer?
Larissa & Tony in the selfie-photo above started off in the valley with a condo in Surprise because at that time, they wanted a lock-n-leave situation…both were working full-time in Calgary and could only come down for the odd week or so. I found them a 2 bedroom + den in Park Place Condominiums which has a resort-type feel, heated pool & spa, clubhouse with gym, movie theater, billiards table and more. They loved their time at Park Place and the company of many other Canadians that owned a condo there too. Their quest to buy a home was showcased in the Home Away From Home 3 Part Series broadcasted by Global News in March of 2012 featuring The Lavine Team with news anchor Reid Feist.
Then Larissa was offered a job transfer to Phoenix and so the need for a larger home with a den and 3 bedrooms became a necessity. Here is a video link to when I listed and sold their condo at Park Place. And off we went looking for the right house close to freeway access for Larissa's job. After looking at homes in many communities considering both new homes and resale homes, we wrote an offer for a new-build home in Canyon Trails in Goodyear. Larissa and Tony loved the new home and the convenient location. I was honoured to be their wedding officiant as they took their vows in their back yard surrounded by dear friends.
After Tony retired from fire-fighting in Calgary and then becoming a full-time resident down here, there arose a desire to be in a 55+ community chalk full of activities including the very popular sport of pickle-ball. Tony has recently started-up a venture in Mexico offering destination pickle-ball vacations while he plays the sport with Larissa several times a week. The search was on for a suitable home at PebbleCreek in Goodyear which has 36 pickel-ball courts, two major community centers each with their own pools, gyms, clubhouses, golf courses and much more. Here is the MLS link to their Canyon Trails newer home that I listed a month ago that is under sales contract.
The photo you see above was snapped on the day Larissa and Tony took possession ( Dec 4,2017) of their 2154 sq ft home with heated pool & spa in a resort-like yard located in PebbleCreek. I think they will stay in this home for a long time because all the boxes were checked on their wants-needs list.
I would be delighted to engage in conversation with you to get the ball rolling to fulfill your wants and needs for a little piece of desert paradise here in the Greater Phoenix Real Estate area. I work the entire valley! And if you happen to want to get married or to renew your vows down here, I have you covered for that joyous event as well!!
Search Greater Phoenix MLS Listings-Homes for sale