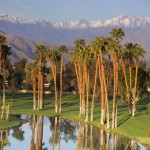 Some Canadians tell us that they are trying to decide on whether to purchase a home in the Palm Springs Real Estate area or in the Greater Phoenix Real Estate area. At one time we had similar considerations as well….I'll share with you what swayed us towards Phoenix Arizona.
Both cities have palm trees, golf courses, mild winters, cute desert mountains and nice areas to choose from but that's where the similarity ends!
Phoenix is easier to fly to with more direct connections, competitive fares, more air carriers and flight frequency to choose from.
Sports! Sports! Sports! Phoenix has five professional sports teams and Palm Springs has none. There is NFL football with the Arizona Cardinals, NHL hockey with the Arizona Coyotes, NBA basketball with the Phoenix Suns, WNBA women's basketball with the Phoenix Mercury and MLB baseball with the Arizona Diamondbacks. There is Nascar racing twice a year, MLB spring training with 15 teams during the month of March, Tostito's Fiesta Bowl in January and ASU College sports of all kinds.
Palm Springs has some outdoor music festivals and regular night club big name performers mostly at casinos but Phoenix has that type of entertainment as well as Symphony, Ballet, Theatre, Comedy, cultural events and venues galore. Aside from golfing, playing polo and some shopping there's not much else for day to day activities in Palm Springs and in the off season it's like a ghost town. In Phoenix there is always something happening somewhere in the valley…..a festival, a concert, state fair, parades, Christmas light displays, outdoor block parties, events, happenings of all kinds. And talk about shopping…..Phoenix hands down!!
Palm Springs is smaller and the Real Estate is more expensive than the Greater Phoenix-Scottsdale area. If you want to feel like you're in a smaller place in the Phoenix area there are plenty of suburban choices with cotton and corn fields that you pass by for that rural non-congested feel.
Palm Springs has Real Estate transfer taxes and an additional FIRPTA state tax if you ever sold your home whereas Arizona does not. HOA fees tend to be higher on average and the golfing in general is more expensive too. The cost of insurance is more expensive in Palm Springs and you better get earthquake coverage…..also property taxes are higher in California. There are no natural catastrophes in the Phoenix area.
Phoenix is in such a nice central location that if you ever wanted to drive to Palm Springs for a weekend…it's only 3-3 1/2 hours, Vegas is 4 1/2 hours, Grand Canyon is only 3 1/2 hours, Sedona is less than 2 hours, Los Angeles is 6 hours drive or just over 1 hour by plane….same with San Diego and you can get to the Baja in Mexico in 3 1/2 hours. There's plenty of beautiful spots in Arizona for day trips…..Phoenix makes a great launch pad to see so many other places close by.
If you still would like to buy a home in Palm Springs then I do know a great Realtor that we can refer you to…
Search Greater Phoenix MLS Listings-Homes for sale