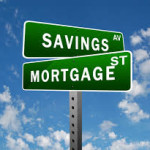 There are 3 common methods to arrange financing to pay for the purchase of a home in the Greater Phoenix real estate area. One method of course is to have the cash on hand to pay for a home. This method gives you good buying power at the negotiating table as sellers will often pick a cash offer over a financed offer as it is generally more of a sure thing to complete.
Another method is to cash in or leverage your own home equity up there. Many of our clients have realized a large amount of equity on their properties up there….. especially for those that have owned their homes prior to 2006 before values in Canada started rising dramatically. Those that have enough home equity can arrange a line of credit with a Canadian lender and then come down with cash to buy a home. We have Sherry Drysdale (Canadian mortgage broker) on our team that can arrange this for you. This method also gives you good buying power as you will have cash to complete the sale.
The other common method is to arrange a mortgage with an American lender. Canadian lenders don't do mortgages for properties out of the country. There are several US lenders that will and we can put you in touch with them. Dependent upon what type of property that you want to buy, we can make recommendations as to which lender might be the best fit. The process to qualify is very similar to up there….info required includes tax returns, pay slips, bank account statements and they will check your Canadian credit background. The debt service ratio will be examined to determine the amount of mortgage you'd be eligible for. You will still have good buying power as while there are some cash offers to compete against, they have been greatly reduced from a high of over 40% of sales volume a few years ago down to a September of 2015 level at 22% +/-.
With the currency exchange differential between the CAD vs USD, many potential cash-paying Canadian buyers have been re-thinking paying cash or using Canadian home equity to pay cash. Many are financing with US lenders and then plan to either continue with making payments to free up their cash flow or to pay off the US loan when the currency exchange gap narrows.
There are several US lenders that will do mortgages for second homes and just a few that will do a mortgage for an investment property that you intend to rent out. Single family homes are the most commonly financed types of properties as condos can pose a challenge for non-residents to obtain the financing. A few lenders will do condos but it could be a hassle & costly to find out if they will approve them. They will likely require a series of documentation from the condo's Home Owner Association (HOA) which would be at your expense to obtain ( $100-300 per condo complex) to determine if the condo HOA meets their guidelines. There's no guaranty that they will approve the condo for a mortgage. More than 10 years ago, CMHC had a similar qualifying process when there was a non-conventional mortgage they were backing but that disappeared up there years ago. I have had clients that decided to buy a single family home instead to avoid the potential hassle.
The custom for the presentation of offers to be considered by sellers is for us to attach either a Proof of Funds letter ( from whatever bank holds your funds) for a cash offer or a Pre-Qualification Form completed by a lender for a financed offer. Without one of these attached, the offer may not get considered. Up there that is not the case…you just indicate on the offer 'subject to financing', the buyer's Realtor pleads the merits of the buyer's qualifications to the seller's Realtor and then the seller just takes their chances with it.
While your offer down here is still automatically subject to the appraisal and final underwriting approval, the seller wants to see in writing up front that it will likely happen. So…..we should get working on that Pre-Qual or Proof of Funds letter well before you come down to look at homes. Then when we find the right little piece of desert paradise, we will be prepared to be considered.
It is important to know for those considering a mortgage down here, that there will be several financing fees that will increase your closing costs. When there is a cash transaction, closing costs including the basic escrow charges, HOA transfer related fees, tax pro-rations and home inspections will generally come in at around 1% – 1.5% of the purchase price. We can calculate that for you at the time of considering an offer as it will vary.
When financing though, you can expect there to be a number of fees that Canadian lenders do not charge such as documentation fees, the appraisal, lender's title insurance policy, loan origination fee and a few other miscellaneous fees. These can vary, dependent upon the individual lender and how much financed. But count on the total running from 2.5% to 3% of the purchase price. Up there, the lenders don't have any of these fees that they charge but of course up there, you can't buy a house for $150000, $200000 or precious little for $300000. That buys you so much down here! In the big scheme of things, closing costs to finance an inexpensive property might not seem a big deal.
For all parts of the buying process, Laurie Lavine of The Lavine Team is here to assist you along the way. Please give him a call or an email to get started.
Search Greater Phoenix MLS Listings-Homes for sale