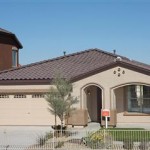 When Canadians are shopping to purchase a home in the Phoenix Real Estate Area, new homes can be a worthwhile consideration for you. Generally you will get a larger resale home with more features and larger lot for the same price as a new home but sometimes a brand new house with a full warranty is desirable especially if you can't find what you're looking for.
It is important for you to know that if you go in to a showhome without me or contact a builder online on your own then the builder will not allow you to have professional representation from a Realtor. The salesperson/Realtor in the showhome or model home, as it is called in Phoenix, is really working for the builder and not for you. It won't cost you anymore for the home to have us represent you and we can help you to negotiate price and terms that are favourable to you.
I spent the first 5 years of my Real Estate career as a Realtor in the show home and together Carol and I have sold dozens and dozens of new homes so please do take advantage of our many years of experience and knowledge with new home construction.
Remember that we must register you with the builder on the very first visit whether it be in the show home or for an online inquiry.…just give us a call or email and we'd be delighted to assist!!
Search for Phoenix Area New Homes