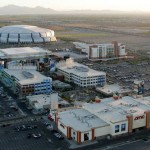 There are many things that over the decades people have flocked to the Greater Phoenix Area for…..mild weather, over 200 golf courses, breathtaking scenery and affordable real estate are the first things that come to mind for many.
But there is so much more that makes up the Phoenix Lifestyle ……..out in the west valley along the Loop 101 ring road freeway lies an entertainment and sports mecca that is leftover for all of us to enjoy after being built for the 2008 Super Bowl. It is called the Westgate Entertainment District. Here the NFL Arizona Cardinals play football at the University of Phoenix Stadium which is a 63000 seat modern facility with a retractable roof and turf that rolls out on to the parking lot for indoor functions like concerts and Home & Garden Shows. Right next door is the Gila River Arena which is home to the NHL Arizona Coyotes….tickets are a lot more favourably priced than in a Canadian arena and Molson Canadian is on tap! Adjacent to the arena is an abundance of restaurants, pubs, dueling piano bar, shops, 2 hotels and a 20 screen movie theater. The middle square has lighted dancing fountains and soaring billboards that make it feel like a combination of being in Time Square and Las Vegas at the same time!!
There are several other professional and college level sports available in the Greater Phoenix Real Estate Area……..NBA Phoenix Suns basketball, WNBA Phoenix Mercury women's pro basketball, NASCAR racing at South Avondale in the west valley, MLB Arizona Diamondback baseball and Cactus League Spring Training MLB for the whole month of March at ball parks around the valley….15 teams in total spring train here! Add in the excitement of ASU college sports and there is enough different sports attractions to satisfy everybody.
Shopping! Shopping! Shopping! It is in abundance throughout the valley from major fashion malls such as in Chandler, Scottsdale & Desert Ridge to the Outlet malls of Anthem and the outlets at Arizona Mills in Tempe….if you're coming here to shop, you came to the right place as the deals are as plentiful as the selection!
Somewhere in the valley every weekend of the year there is an event, attraction or festival to attend. There is the Barrett Jackson Classic Auto Auction every January, The Waste Management Phoenix PGA Open, Renaissance Festival, Ostrich Festival, Block Parties, Arabian Horse Show and countless free events to attend. There is Arizona Theatre, local comedy, Symphony and many other cultural offerings…..truly something for everyone!
And if you need to find a world class spa to pamper yourself amid all the other activities in the Greater Phoenix and Scottsdale area……arriving at destination on your right!!
Search Greater Phoenix MLS Listings-Homes for sale